Have I used that title before? Seems like I have. Anyway, 30 weeks today. That means only TEN more weeks until Peanut gets here. Which doesn't seem like long and then again sounds like forever. It's more than two months, you know!
Went to the doctor on Wednesday and gave blood again for re-typing then got my Rhogam shot. Wheeeeee! It went fine -- I was sorta worried it'd be baddish because I've gone back to feeling so tired and weak and weird the past few days that the idea of being stuck with needles didn't sound like it could possibly come out well, but it did. I weighed 154 with my clothes on and full of water. At home, with no clothes on and less (but still well) hydrated, I'm at 150. I feel skinnier all over than I did when I was carrying Bean and except in the bump area my clothes still fit exactly the same as they did months ago. I guess this one I'm just going to carry in my belly and not in my rear end, which is great news!
The depression has been so much better since I started back taking iron. I had a bad day yesterday, but I blame that on being up in the night the night before with Bean and being generally fatigued and sick-feeling all day long. By day's end I was pretty much hating life, mad at Al, and annoyed beyond speaking (literally) with Bean. But we'd made up and were back in love, all of us, by bedtime. I just get frustrated because I'm sooooooooo tired out and life doesn't stop for that, and I need help when I feel awful but help isn't available and I just have to keep going, even though it would feel better and be better for all concerned for me to just go to bed. I hope today's better. I have plans to make sure it is, but sometimes it's a crapshoot with how I feel. Weird.
Peanut is sooooooooooo much bigger now. I can easily tell this because his movements are slower and the parts he shoves out at me are HUGE and rounded vs. tiny and pointed. He's getting cramped in there and he lets me know it. When I sit hunched over my bump he's still for a few seconds and then he starts shoving upwards into my ribs with his feet, so I have to sit WAY UP TALL and then he's happy and still again. Little turkey! It amazes me how much he still has to grow - I wonder where he's going to GO as he gets bigger because it doesn't feel like there's any room left in front. We'll see!
The skin on my bump is still free of stretchmarks, but it's sortof oddly purple and speckled around my belly button, and I continue to get more and more freckles and red spots daily - he's making his own mark on me, this one. I hope all of this stuff fades after I deliver him.
I've picked out the paint color for Peanut's room and it will be painted in the next two weeks, plus we have the chair ordered, as well, and it is fabulous. I think the nights will be easier on me with this chair AND the knowledge that all of the sleeplessness does end eventually. The benefit of already having experienced it all before cannot be overstated. I know he'll be different from Bean - I mean he already IS so different - but still there's a deeper level of understanding this time that everything is temporary with an infant - I don't need to project every situation out 18 years and worry that what I'm doing NOW will mess him up for a lifetime. What a relief.
I have slowly begun clearing out Peanut's room and moving his things in. It feels like such limited progress, but then I know that what's left to be done could be accomplished in a day or two, so I'm not worried. I don't have NEARLY as much to be done as I did before Bean was born, because so much of it's already been done. I'm still trying to decide, though, what to do about a changing table for him. I don't like changing babies on the floor, really, particularly just after they're born, because the up and down action is rough on my own body. And there won't be a bed in that room, and if I change him in his crib and he wets, then I'm stuck having to change sheets, etc. I used Bean's little changing table almost every time I changed her at home and it worked great, so why wouldn't I do that again? So I've been looking around for the "right" table for his room and I'm having a hard time coming to any sort of conclusion. Which is just how things work when I'm pregnant.
Here's a picture of me from one day last weekend. I want some shots of "all of me" while I'm carrying Peanut. The few pictures I have of my pregnancy with B are all just my belly or my top half.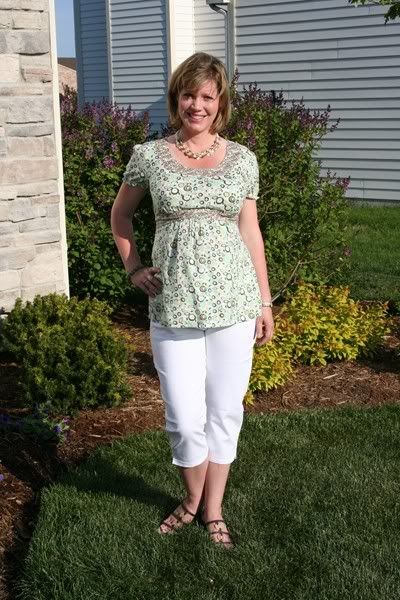 I have updated shots for the belly gallery too, and I'll try to get those up in the next few days. I'm a lot bigger in the belly area now, thanks to all that growin' my baby boy's doing.