Weekly belly photos (from 5 weeks) start right after this new "time-lapse" video of belly growth from week 19 to the present: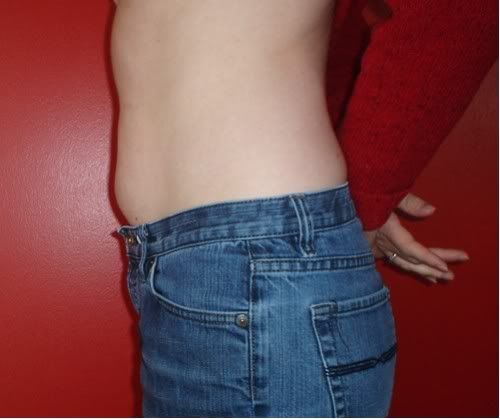 5 weeks, 4 days
Only thing to see here is the leftover flubber from Bean and some pasty white winter skin.
8 weeks, 2 days
No bump, but my abdomen is beginning to look like a tree trunk. "Slight thickening," my foot! It already feels and looks as though I have intestines up around my ribcage. Which I probably do.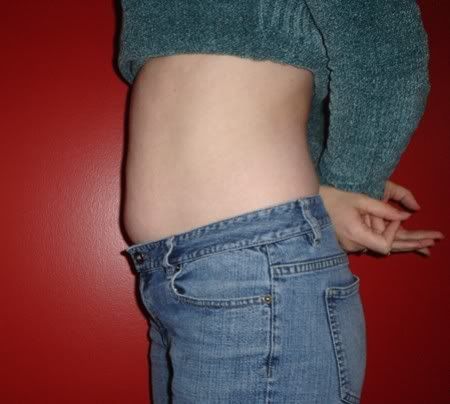 10 weeks
Ho hum! Nothing goin' on on the outside, but there
IS
a baby in there, I have seen it with mine own two eyes now.
11 weeks, 2 days
ZZZZZZZZZZZZZZZZZZZZZZZZ. Last pregnancy this time, I was getting frustrated that there were no outward signs. This time I'm wiser and enjoying life in my "normal" winter clothes and being thankful for a slow-growing belly. All in good time, my pretty. All in good time.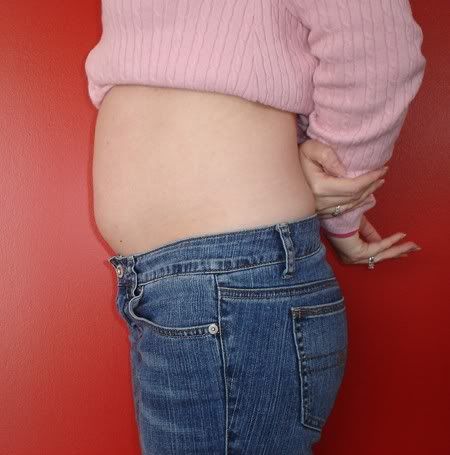 12 weeks, 1 day
BOING! The position of the waistband of these pants doesn't really show off the huge change the belly has made in the past week, but you can definitely tell there's been a change. Clothed, it's now pretty evidently round and bumpish.
13 weeks
Yeah, I know. Where'd it go? Oh well, like I said, False Belly Alarm last week! Back to my normal self mostly again. Pardon the pajamas - I'll be back to jeans next time - this time I was in a big old hurry!
14 weeks
I skipped the 14 week picture because we were at the beach with my family and on that Friday I was a big ol' constipated, bloated gasbag from all the delicious but disagreeable to the Mama-tummy fried seafood and such. I looked like I eventually will at about 34 weeks. It was most unpleasant to look at AND feel. My Mom pointed at me in horror at one point and said, "Megan, you're HOW far along?" When I told her, her eyes got huge and she said, "I predict you're going to be HUGE in a few months!!!" Ha ha, fooledja Mom! As I recall actual baby bump is much more fun.
15 weeks
Yeah, I know. Still kinda dull from the outside. I think if I were a thinner person to begin with, you'd see more, but I guess there's plenty o' camouflage in that flubber of mine.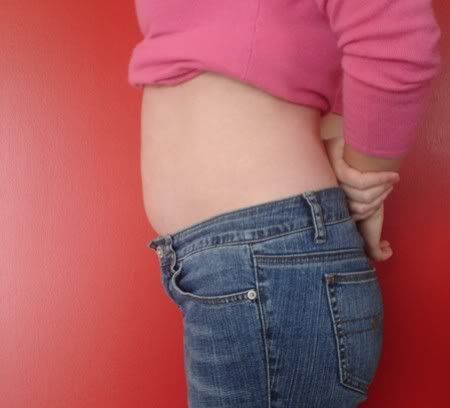 16 weeks
It just must be a very tall, thin baby. That's all I can figure out. I know he/she is in there and growing because I can feel the top of my uterus moving up and up, but dang, this thing just won't make a bump!
17 weeks
Grainy picture - Mama's gettin' lazy with these belly shots. We have a doctor's appointment today, so I'll update about that later. The belly IS growing. I should push in the top part, right below my sternum. It's so saggy up there that the belly just sorta blends in. But when I lie on my back there is a pretty noticeable little round protrusion right where it should be. Hold on, lemme see if I can take a picture of that...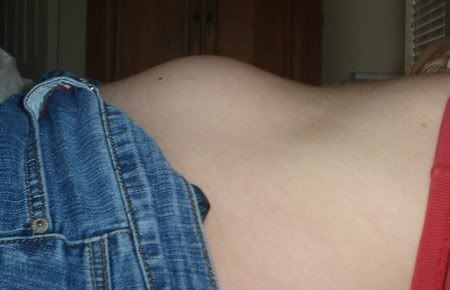 17 Weeks, So You Can Actually See Sump'm!
AHA! There we go! See? BUMP!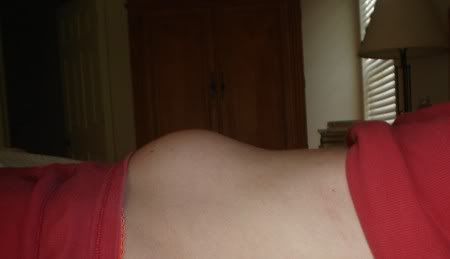 18 Weeks, New Angle Option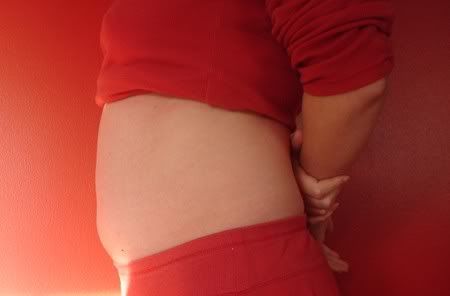 18 weeks, Old Angle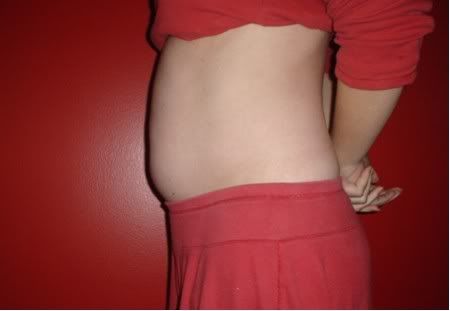 19 Weeks.
Other women get cute little shapely baby bumps. I get a beer belly.
19 Weeks with the assistance of gravity.
The baby isn't so bunched up anymore. The bump is longer from top to bottom, but not poking out quite so far. Right?
20 Weeks.
Halfway there. Looks bigger this week!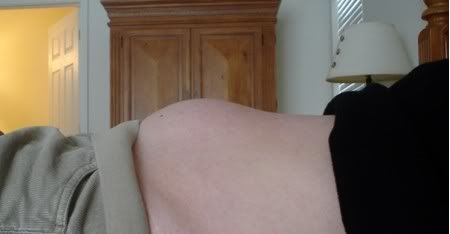 20 Weeks View 2.
Definitely bigger. Definitely.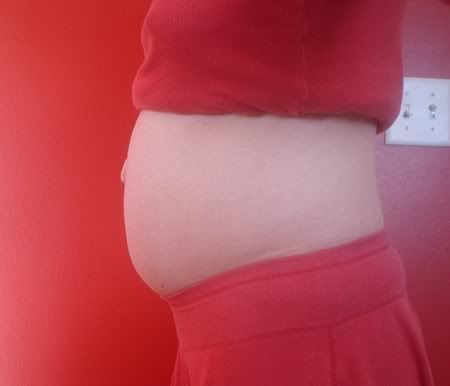 21 weeks.
Fat bellied Mama! (That's my finger from the hand in the back, not my belly button!)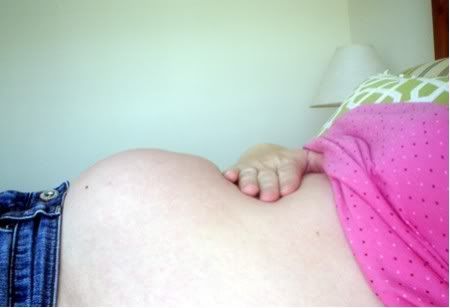 21 weeks, View 2.
I used my hand to press down all the extra baggage around my midsection so you can see the shape of the bump. It's really growing these days! But I still have on my regular jeans. WOOT!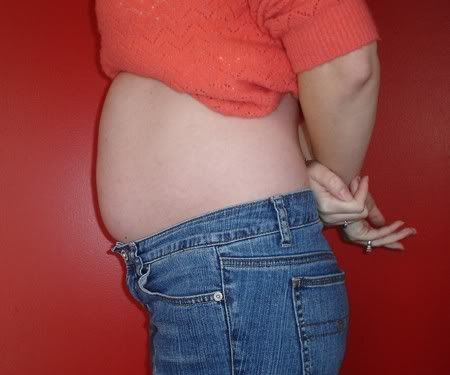 22 Weeks.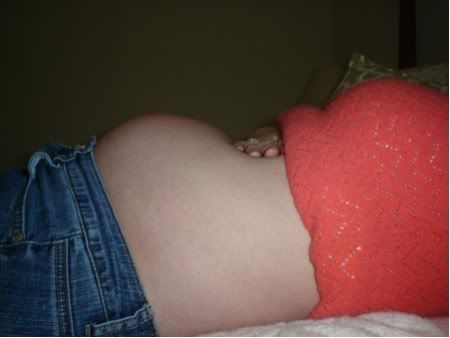 22 Weeks, View 2.
22 Weeks, Face.
Photo by Bean. I don't know why I look so pained. I'm really not pained at all.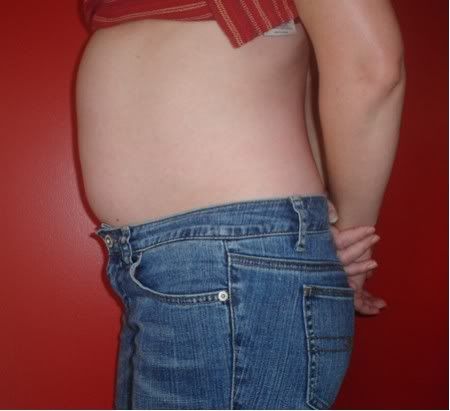 23 Weeks.
23 Weeks, View 2.
24 Weeks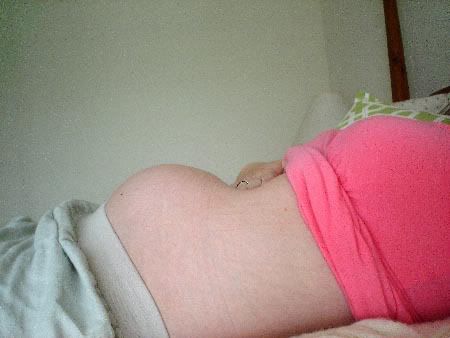 24 Weeks, View 2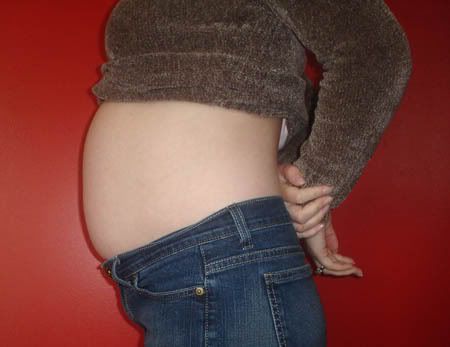 25 Weeks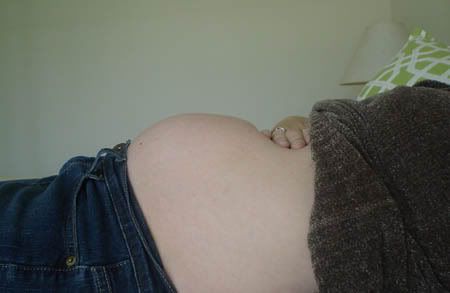 25 Weeks, View 2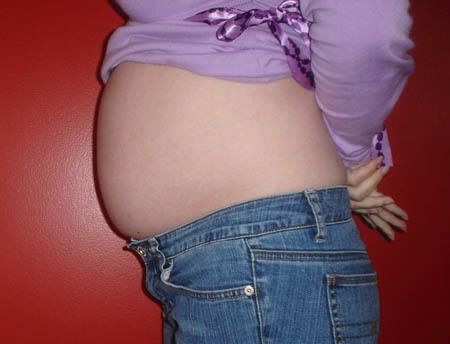 27 Weeks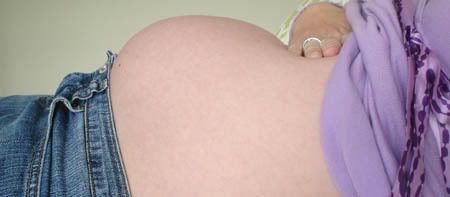 27 Weeks, View 2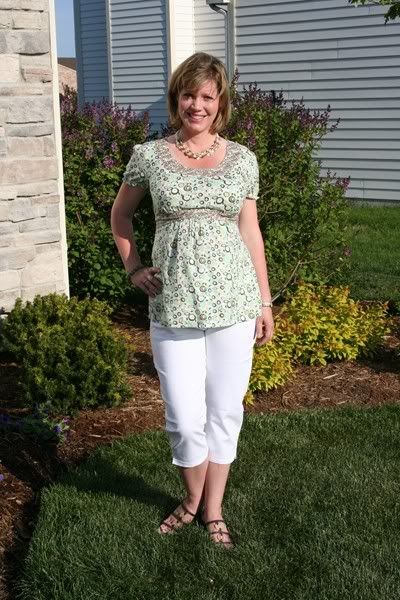 29 Weeks - Whole Self, Whoohoooo!
30 Weeks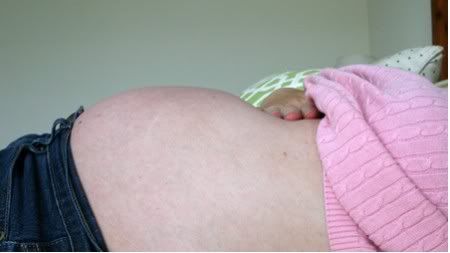 30 Weeks, View 2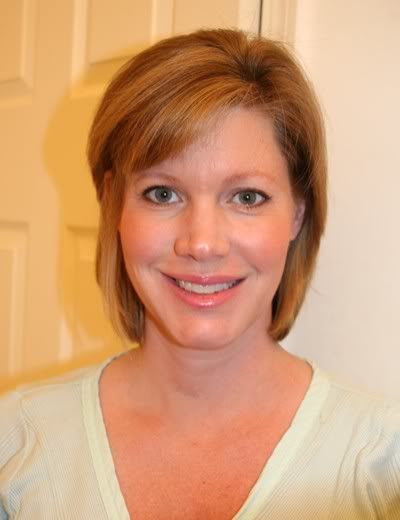 30 Weeks, Face
31 Weeks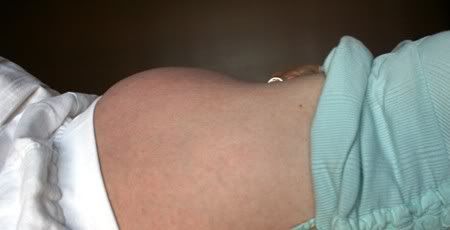 31 Weeks, View 2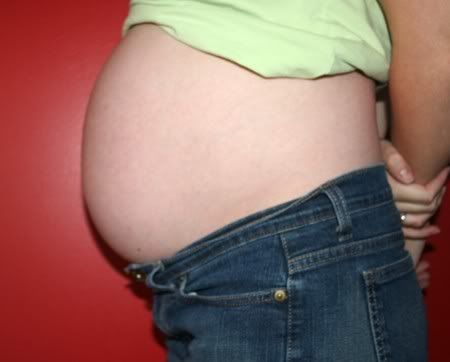 32 Weeks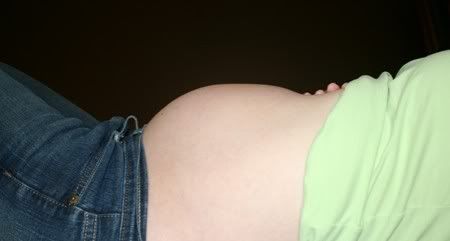 32 Weeks, View 2
32 Weeks, Front View
Tiny belly button. Still no stretch marks. Thank you, heredity.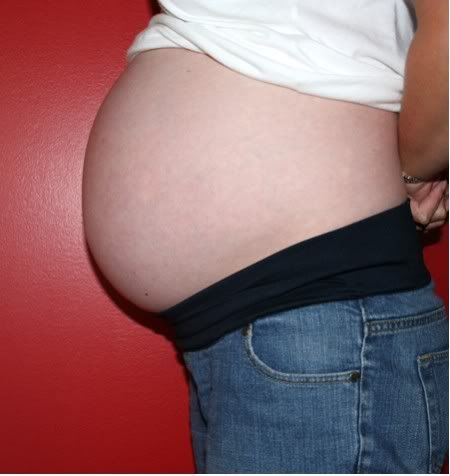 35 Weeks. AAAAAAAAAAAAAAAAAAAAAAAAAAAH!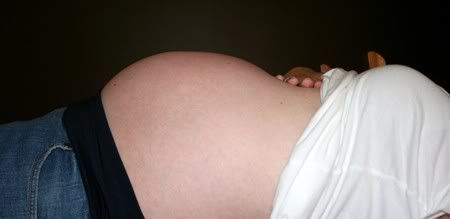 35 Weeks, View 2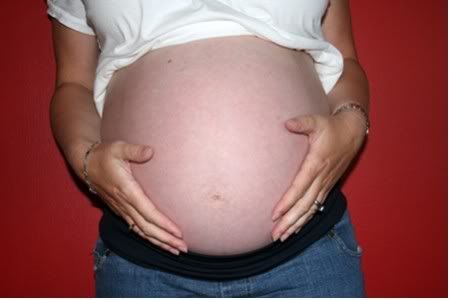 35 Weeks, Front View. Belly button still hanging in there!
37 Weeks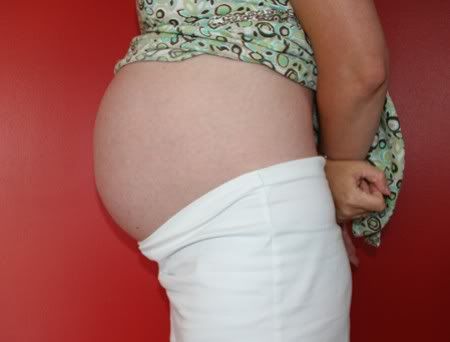 37 Weeks, Side View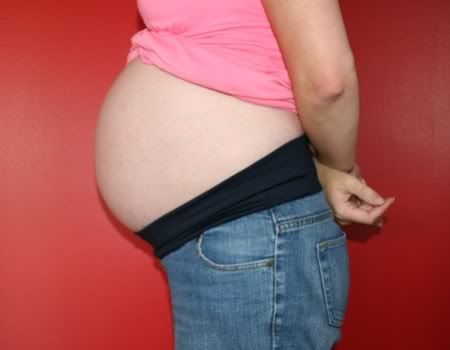 38 Weeks
38 Weeks View Two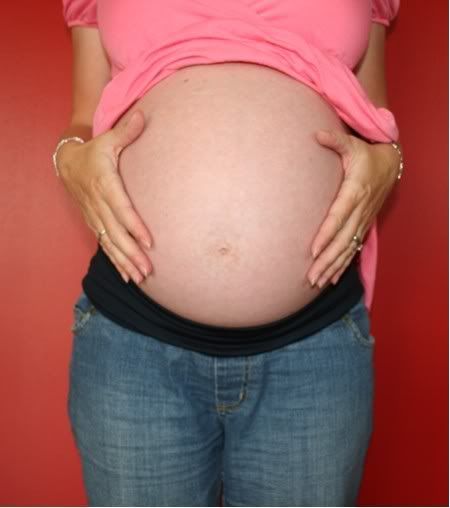 38 Weeks, Belly Button Will. Not. Give. Up.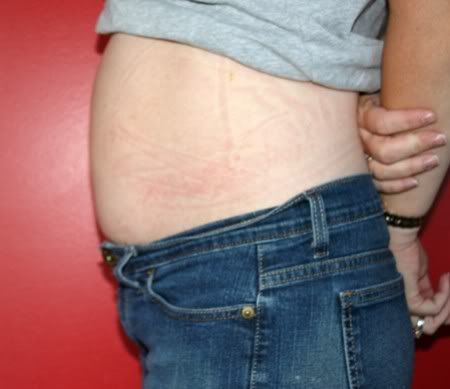 41 Weeks (Peanut was born at 39 weeks, 6 days.)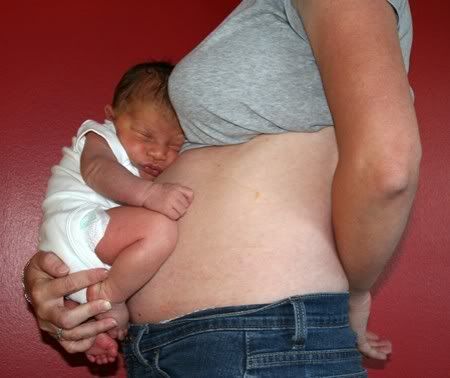 41 weeks with belly's previous contents.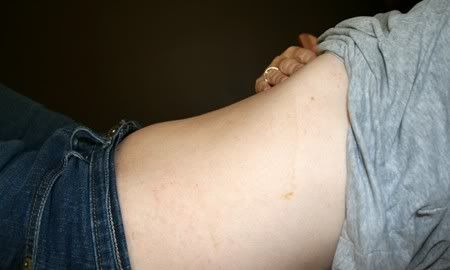 41 weeks, View 2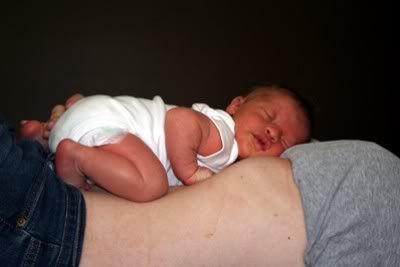 41 weeks, View 2 with former tenant.